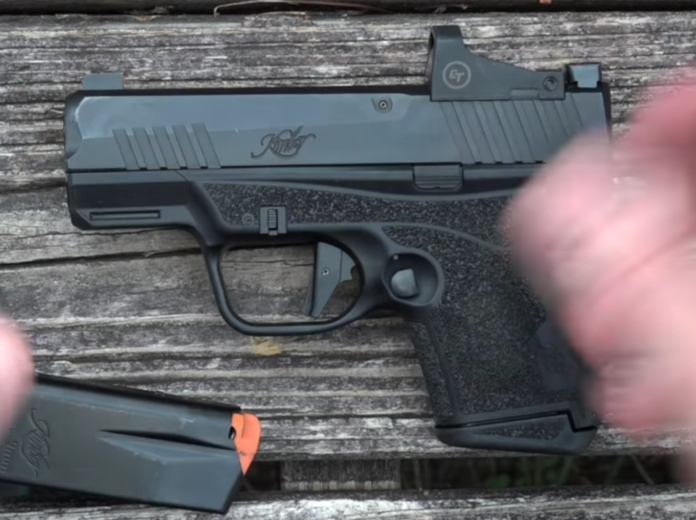 The micro compact pistol market has exploded over the past few years. Major players, such as Sig Sauer, Springfield Armocy, and Smith & Wesson (with the P365, the Hellcat, and the M&P9 Shield Plus, respectively), have all made big pushes into the market, and all have received much praise both from gun owners and from reviewers.
Now, Kimber has decided that they want a piece of that action, too, and are entering into the micro compact pistol market with the R7 Mako. Chris Eger gives us details:
Shipping with both 11- and 13-round magazines, the new Kimber R7 Mako micro-compact 9mm pistol debuted on Thursday.

Striker fired with a modular polymer frame, the R7 Mako is just 6.2-inches long overall, 4.3-inches high, and 1-inch wide. By comparison, this is a near match for the recently introduced Taurus GX4, Ruger MAX, Sig P365, S&W Shield Plus, and Springfield Armory Hellcat. Unlike some of these contemporaries, however, the Mako is optics-ready and has fully ambidextrous controls with a full wrap-around stippled texturing along with TruGlo Tritium Pro U-notch sights. 

"Kimber reached out to carry enthusiasts and asked what was most important in a concealed-carry pistol; the resounding response included the requirement of an outstanding trigger and ability to carry with the confidence of having sufficient ammunition capacity for any situation," said the company in a release. 
Unlike some of that big players in the micro compact market, the R7 Mako only comes as an optics ready firearm. The two initially available versions differ only in that you can purchase the R7 Mako with or without a Crimson Trace red dot installed. The model without the pre-installed optics is optics ready. The pistol also comes with a rail for accessories.
Other details that many people already seem to like is the aggressive texturing on the grip and along the edge of the slide which can help with racking the slide when necessary, positive impressions of the trigger (about 5.2 pounds of pull), and the pistol's accuracy.
One reviewer, Mrgunsngear, noted that, while he had previous bad experiences with Kimber firearms, he has had a good experience with the R7 Mako, noting that he experienced only one jam (in the very first magazine) while running 800 rounds through the pistol. You can see his comments about the reliability in the video below (queued to that point in the video).
All-in-all, Kimber seems to be working hard to turn a new leaf (after the previously mentioned quality concerns that the company had experienced) with the R7 Mako, and with the options already installed on this pistol, if you're in the market for a micro compact, this may be a gun to consider.