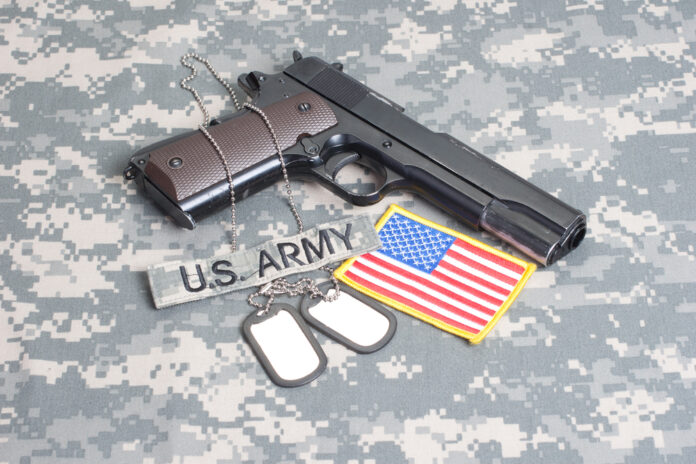 The 1911. A classic pistol with a history that many gun enthusiasts love. Sharp, classic look with constant use in the U.S. military for over a century, first as the standard-issue sidearm from 1911 to 1985 and still in use in certain units among the different branches of the U.S. military.
It's no wonder that many enthusiasts love the 1911.
But it's not a perfect sidearm for all purposes. Take concealed carry. The 1911 is simply too big to be easily concealed in many situations, and because of this, folks who carry concealed have tended to opt for other firearms.
Kimber, though, offers a pistol for those who love the 1911 but need something a little smaller to carry concealed. Steven Paul Barlow gives us the details:
Kimber Manufacturing has expanded its line of Micro 9 models with the addition of the new Micro 9 Rapide (Black Ice). New for 2021, the Micro 9 Rapide (Black Ice) takes design cues from the highly coveted 1911 Rapide (Black Ice), adding a new level of refinement and elegance to the Micro 9 lineup, all while enhancing comfort, concealment and function.
Barlow continues:
The Micro 9 Rapide (Black Ice) provides the functionality of its 1911 counterpart in a smaller and lighter package. Measuring 4.07 inches tall, 1.08 inches wide and 6.1 inches long, the gun has a minimal footprint while maintaining the familiarity of the 1911 platform. The firearm's weight is ideal for concealed carry at a mere 15.6 ounces thanks to its lightweight aluminum frame.
Barlow's piece makes is abundantly clear that he's a big fan of the Micro 9 Rapide. And, if you're a 1911 fan, you may find that you are, too, but, of course, the only way to know that for sure is put your hands on one.
So, if you're in the market for a new pistol, maybe specifically a concealed carry firearm, but you have a soft spot in your heart for a 1911, the Kimber Micro 9 Rapide may be a pistol to consider.