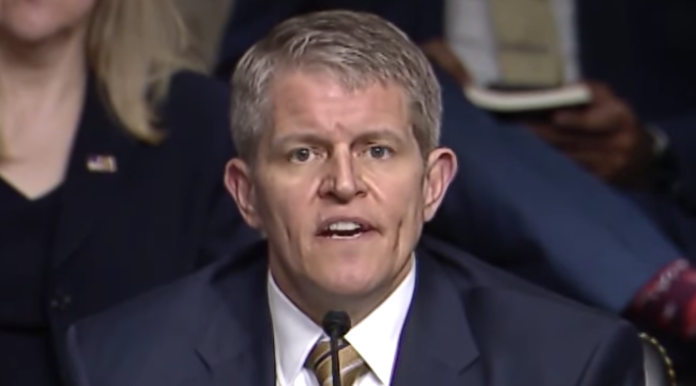 Joe Biden's administration, in just the eight months that they've been in the White House, has had more controversy than any administration in recent history (maybe in all of American history). While the controversies cover a variety of topics, we're only going to focus on the ones related to firearms here.
Such as Biden's nomination of a guy who wants to ban AR-15s, David Chipman.
We've been talking for months about how horrible Chipman would be as the head of the ATF (You can read more about the raging dumpster fire that has been Chipman's career and nomination here, here, and here.).
Truth be told, if Chipman were to become the head of the Bureau of Alcohol, Tobacco, Firearms, and Explosives, the results for gun rights could have been every bit as bad as most Americans think. Fortunately, though, the possibility of that is gone (hat tip to here for the lead). Seung Min Kim and Tyler Pager write,
The White House withdrew ­David Chipman's nomination to run the Bureau of Alcohol, Tobacco, Firearms and Explosives on Thursday amid bipartisan pushback over his gun control advocacy.

President Biden nominated Chipman, who worked at ATF for more than two decades before joining the gun-control group led by former congresswoman Gabrielle Giffords (D-Ariz.), in April as part of a larger effort to curb gun violence. But his nomination faced unified opposition from Republican senators as well as concerns from a handful of Senate Democrats from states friendly to gun rights.

"We knew this wouldn't be easy — there's only been one Senate-confirmed ATF Director in the Bureau's history — but I have spent my entire career working to combat the scourge of gun violence, and I remain deeply committed to that work," Biden said in a statement.
So, the good news is that Chipman is out as Biden's ATF nominee. That doesn't mean that we're not out of the woods, yet, though. Biden has made it clear that he's willing to battle against those who disagree with his policies and to abuse Executive Orders to push his personal, unconstitutional agenda. So, while we don't know Biden's next step in trying to strip Americans of gun rights, we do know that there will be more battles ahead.